At Closure Systems International (CSI), we don't just manufacture bottle caps. For bottlers or co-packers who need on-site capping equipment, CSI offers a range of bottle capping machines and cap handling systems. We also provide the option to purchase individual headsets and chucks, spindles, and cap delivery parts if you don't want to replace the entire existing machine.
Keep reading this guide for a brief introduction to CSI's bottle capping machines and cap handling equipment that can help minimize downtime, increase throughput, lower maintenance costs, and reduce closure defects.
CSI capping machines
Capping machines play an essential role in bottling automation. Although each system is typically customized to meet specific applications and production volumes, a capping machine's main job is to apply a plastic or metal closure accurately and securely to a container or bottle.
Closure Systems International makes 10 different bottle capping machines to suit a wide variety of manufacturing needs, from a single-head inline capper that operates manually, to high-performance machines that apply plastic closures at the highest possible speeds. Here's a quick overview. (And, you can click on the links to see more details on each.)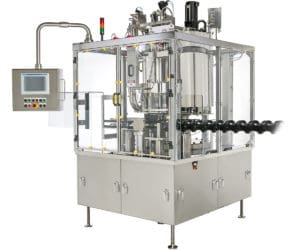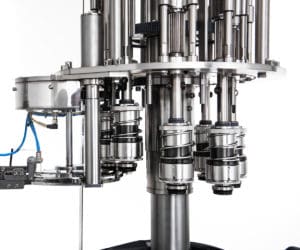 CSI cap handling machines
Traditional capping systems include a cap elevator, feeder or sorter that delivers a volume of closures to the capping equipment to then be sealed onto the container. Here are seven different cap handling machines Closure Systems International produces to efficiently move closures to the capping machine.
Why buy bottle capping equipment from CSI?
At Closure Systems International, we have more than 50 years of experience in the beverage packaging industry and work with some of the biggest brands on the globe. We manufacture our own bottle caps at nine different plants, so we have hands-on experience with the complexities and challenges of automated capping systems. Our capping solutions also use the latest technology to achieve greater precision, deliver faster speeds and offer easy maintenance that can help reduce your total cost of bottling operations.
In addition, CSI has a dedicated Technical Services team that oversees every step of the equipment configuration, purchase and installation process. We also provide customer training and ongoing maintenance for parts replacements and other service requests, to enable your capping equipment to operate at peak efficiency.
Our team provides many types of technical support as well, including a headset exchange program and a spindle exchange program. We also offer a PM Select program for customized preventative maintenance program and PlasTech training about the proper execution of plastic closure application.
If you're ready to experience the CSI competitive advantage, reach out to our customer service team today. Contact us here to inquire about capping machines, cap handling machines, parts or service.