Tamper evident packaging makes unauthorized access to the product immediately evident to the consumer. Tamper evident caps and closures are a key part of the tamper evident packaging system, and they play an important role in both preserving product integrity and creating consumer confidence.
There are many types of tamper evident closures designed to meet a wide variety of packaging across different industries, including multiple stock closure lines offered by Closure Systems International (CSI).
Why tamper evident packaging matters
The main function of the tamper evidence feature is to inform the end consumer that nobody has tampered with the package prior to the initial opening. Tamper evident packaging not only gives consumers confidence in their purchase, it also helps to preserve product integrity and safety.
Tamper evident packaging provides both auditory and visual cues to confirm that a cap has not been opened previously. Tamper evident packaging also helps to meet CPSC child-resistant compliance and ensures compliance with governmental guidelines.
Choosing the right tamper evident packaging for your needs is of paramount importance. Thankfully, there are many types of tamper evident caps and closures currently available so that you can find the right one for each of your products.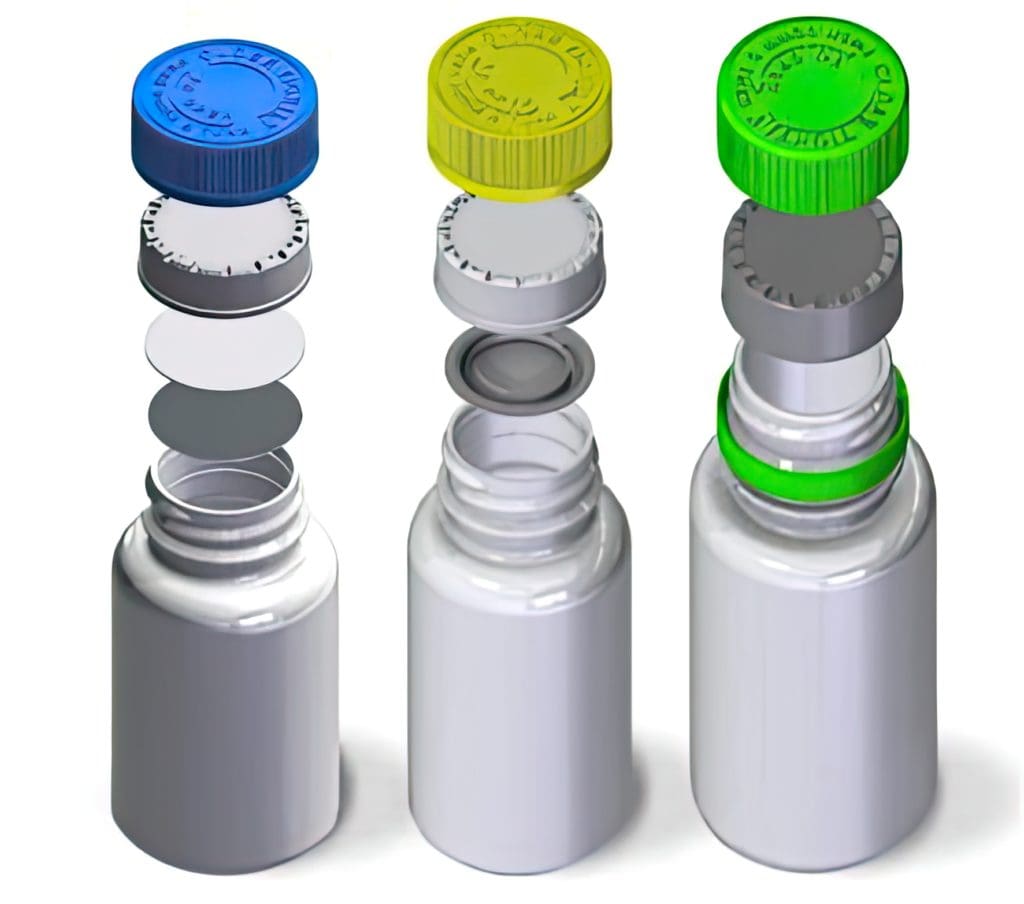 Learn about types of tamper evident caps
Tamper evident seal under cap
The tamper evident seal under a cap is usually a small white plastic-covered foil disc that must be peeled off the opening of the bottle in order for the consumer to use it. This style of tamper evident closure is common in single service juice, coffee bottles and condiment packages.
Sometimes the seal is designed to come off with the cap when it is unscrewed for the first time so consumers don't have to hassle with removing it themselves. If you look down at the lid after removing it, you will see the seal attached to the inside of the top of the cap.  Other times, the consumer will need to initially peel the foil seal off from the package to use the product.
Less commonly, the tamper evident can also be a thin foil membrane that gets broken when the cap is uncrewed. This design is common on broth and soup cartons.
Welded membrane with tamper evident pull ring
The welded membrane with a tamper evident pull ring is a plastic disk with a pull ring that is integrated into the cap. After the cap is removed for the first time consumers must grab the pull ring to remove the inner seal. This style of tamper evident closure is common on full size milk and juice cartons.
Tamper evident snap ring separates from closure
The tamper evident snap ring is a small ring of plastic that separates from the bottom of the cap when it is unscrewed for the first time. The ring separates with an audible noise and also provides a visual cue as well. This style of tamper evident closure is common on soda and water bottles. It can sometimes be combined with the other tamper evident seals mentioned above.
Other tamper evident options
There are multiple other tamper evident closures available if none of the more popular solutions above fit your needs. For example, CSI offers a dust cap with seal on sports bottles and a hinge cap with seal on flip top bottles. Contact us today to learn more about what other tamper evident caps we offer.
Get to know CSI's tamper evident closures lines
CSI offers stock closures that provide tamper evident features. They are:
Double Lok®: CSI's unique patented tab tamper band design featured on the Double Lok closures provides the highest level of tamper evidence available in the carbonated soft drink industry.
Wing Lok®: Wing Lok's sure grip design provides easy opening and reclosing benefits, while the closure's sealing characteristics make it suitable for returnable and non-returnable applications on PET or glass bottles.
Extra Lok®: CSI's patented "Bead Behind the Wing" technology, featured on the Extra Lok closures, provides a high level of tamper resistance and assures 100 percent tamper evidence on opening.
Sports Lok®: Sports Lok is a push-pull closure that provides dual tamper evident protection on both the dust cap and shell tamper bands for unparalleled closure performance, precise product specifications, and total systems support.
Interested in tamper-evident caps, including custom cap solutions? Contact CSI today.