Closure Systems International & Talkin' Things® Team up to Bring You the Latest in Packaging Technology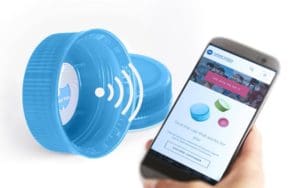 INDIANAPOLIS–(BUSINESS WIRE)–Closure Systems International (CSI) and Talkin' Things®, the leading innovator in product communication platforms, have collaborated to integrate smart packaging technology into CSI's global platform of closures. CSI and Talkin' Things have developed a new packaging solution named Talkin' Cap, which uses embedded Near Field Communication (NFC) tags, for application on the inside of closures. This technology introduces a powerful platform to support a brand owner's mobile marketing activities right from the package itself…with just a simple tap.
Brand trustworthiness and product reliability are paramount for consumer loyalty. Talkin' Caps ensure product safety and reduce brand owners' liability by protecting against counterfeiting and "gray market" activities throughout the distribution stream.
CSI's Talkin' Caps allow for real-time consumer interconnectivity at the point of consumption, giving brand owners the unique ability to have dynamic interaction and gather actionable insights based on consumer location and usage history.
With 90% of consumers using their smartphone to help make purchase decisions in a brick and mortar setting1, Talkin' Caps are an app-less way to drive marketing content, brand and product information, gamification, loyalty programs, awards and coupons to connected consumers.
The Talkin' Cap technology will be unveiled at this year's Pack Expo, taking place October 14th – 17th, 2018 at McCormick Place in Chicago, IL. CSI in conjunction with Talkin' Things® invites you to visit CSI's booth S-2930 for interactive demonstrations taking place on Monday, October 15th (1pm/3pm-CT) or Tuesday, October 16th (9am/11am-CT).
For further information, please contact:
| | |
| --- | --- |
| Closure Systems International | Talkin' Things LLC |
| Dave McCall | Maciej Kiryllo |
| Business Development Leader | Director Business Development |
| 7820 Innovation Blvd, Suite 100 | 182 Pulawska Street |
| Indianapolis, Indiana 46278 USA | Warsaw, Poland 02-670 |
| 317-390-5008 | +48 22 299 79 69 |
| | |
| | |
About CSI
Closure Systems International, Inc. (CSI) is recognized as a global leader in closure design, manufacturing, and high-speed application systems. In addition to quality closures and capping equipment, CSI provides unparalleled customer and technical services globally. Major categories served include carbonated soft drinks, bottled water, juices, isotonics, teas, adult beverages, dairy, foods, pharmaceutical and automotive fluids.
CSI's closure systems solutions help customers maximize profits by increasing the marketability of their brands and optimizing their total cost of operations. Approximately 90+ billion closures are produced annually in CSI's 25+ manufacturing sites, strategically located in 20+ countries throughout the globe. Visit CSI's website at www.csiclosures.com.
About Talkin' Things®
Talkin' Things® is a complete eco-system provider that transforms traditional products using digital technologies. Connected products embedded with Talkin' Things® technology include customer engagement tools, loyalty programs, security and logistics options, and a comprehensive data management system with customizable APIs.
Having great expertise in IoT technologies and marketing campaigns, Talkin' Things® develops creative concepts for brands and offers comprehensive implementation knowledge to run a digital transformation without disruption of manufacturing processes. Talkin' Things® is the only company in the world that offers end-to-end solutions including customizable technology, software and hardware.
https://www.fastcompany.com/3007362/customers-dont-want-ads-they-want-conversation
Contacts
Closure Systems International, Inc.
Clint Rush, 317-390-5067